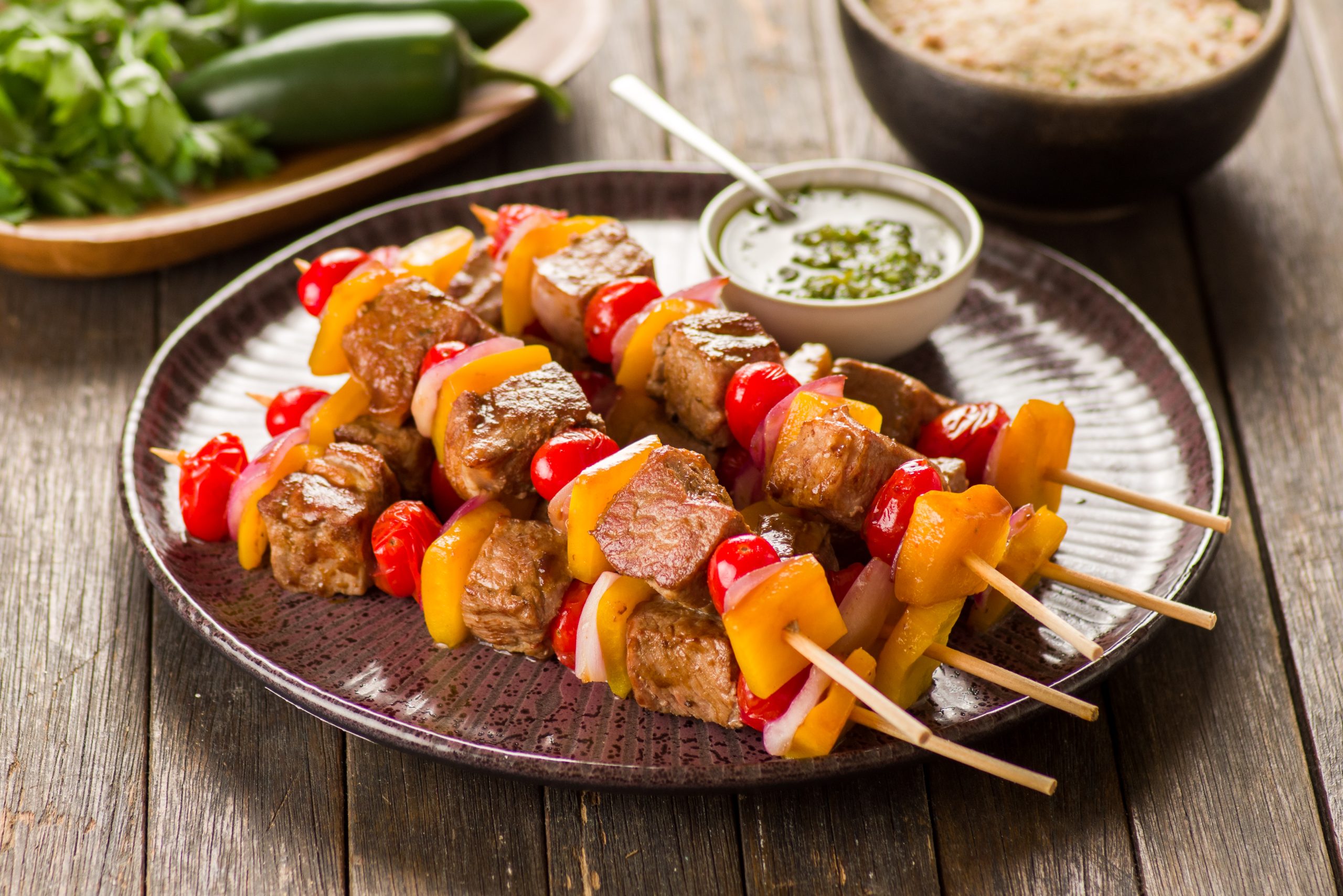 We have selected a perfect recipe for those who love flashy flavors. We combine all the juiciness of the striploin with a jalapeño pesto, a pepper of Mexican origin and ideal for preparing sauces, due to the great thickness of its pulp.
The advice is to gather friends for the weekend and try this combination, which is best for its practicality.
Ingredients:
Striploin skewer
1 pack of Ana Paula Black Angus striploin
Salt to taste
Black pepper to taste
15 grill skewers
2 cups cherry tomatoes
1 large yellow pepper, diced
2 large red onions, diced
Roasting oil
Jalapeno pesto:
2 cups parsley
1 cup basil
1 chopped jalapeño chili
1 clove garlic
1/3 cup walnuts
1 ½ cup (tea) Alma Lusa olive oil
Salt to taste
Preparation:
Jalapeno pesto:
In the bowl of a blender, place the parsley, basil, jalapeno, garlic, walnuts and drizzle with olive oil.
Season with salt and whisk for 5 minutes or until a thick sauce is obtained. Set aside.
Striploin Skewer:
Cut the narrow steak into 3×3 cm medium cubes and season with salt and ground black pepper to taste.
When it's time to assemble the skewers, take the grill skewers and place a cube of bell pepper, a cube of onion, a cherry tomato and a cube of strip steak.
Repeat the process 2 more times, finishing with the cherry tomato. Do it with all the skewers, until the ingredients are finished.
Once ready, put a large non-stick pan over medium heat and spray with oil.
Roast the skewers for 3 minutes on each side or until slightly golden brown.
Serve with the jalapeno pesto sauce.